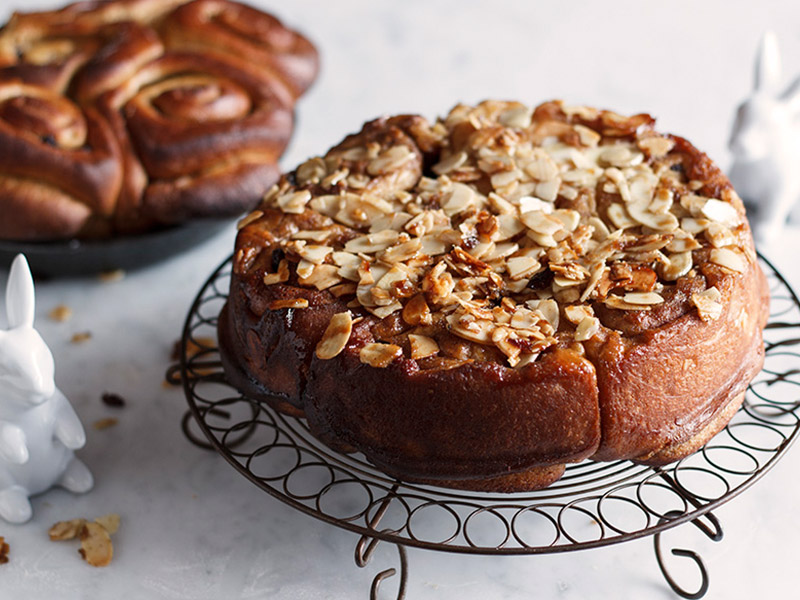 Hot Cross Cinnamon Buns
Once upon a time there was a handsome hot cross bun and he fell in love with a sensational cinnamon roll and they had lots of little hot cross cinnamon bun babies and lived happily ever after!
What you will need
DOUGH
500g flour
2 tsp ground cinnamon
2 tsp mixed spice
75g butter, softened
2 eggs
2 egg yolks
10g instant dry yeast
10g salt
75ml lukewarm milk (or water)
50g candied mixed peel (optional)
TOPPING
60g butter
100g flaked almonds
FILLING
50g butter, softened
½ cup raisins
1 tsp mixed spice
1 tsp cinnamon
Method
Make the dough by placing all the ingredients in a mixing bowl (I use a stand mixer to make it easier) and combine until a soft dough forms. Knead the dough for 8-10 minutes or until it's smooth and springs back when poked with a finger. Cover the dough and leave to rise in a warm place until doubled in size (about 1 hour).
In the meantime, prepare the baking tray by rubbing a 20x30cm baking dish with the butter then sprinkle in the sugar and scatter the almonds on top. Set aside.
Knock down the dough and knead it lightly to press out the air then roll out into a 20x30cm rectangle. Spread the dough with the softened butter then sprinkle over the sugar, raisins and remaining spices. Roll the dough up tightly (from the longest side) to form a sausage then slice into 2cm thick wheels. Pack the buns into the prepared baking sheet on top of your glaze then cover loosely with cling wrap and allow to rise in a warm place until doubled in size.
Preheat the oven to 200C (conventional, 180 fan-forced) and bake for 20-30 minutes until golden. Turn out immediately then allow to cool slightly before serving warm.
TIP These buns are best eaten on the day they are made – or even better, straight out the oven!
Recipe by Katelyn Allegra